We're Quite Fawned of This Webinar: Integrated Approaches to Deer Management
Find this article at:
go.ncsu.edu/readext?772040

Upcoming:  On Feb. 9, the Center for Integrated Pest Management will present an overview of effective integrated strategies to manage deer. As deer populations grow, we experience an uptick in vehicle collisions, tick populations, and damage to our gardens and landscapes. During this webinar, participants will learn non-lethal integrated strategies to exclude and repel deer and tips for avoiding plants that deer love to eat. Presenters will also discuss deer deterrents, repellents, devices, exclusionary fencing, and community-based deer management plans that involve both lethal and non-lethal methods. The webinar will feature experts from Auburn University, University of Maryland Agricultural Extension, Rutgers University, and the Center for Integrated Pest Management. Register Now!
It is a calm and serene sight to see a field full of grazing deer; however, as their populations grow, they are a hazard for vehicles, they support tick populations that vector diseases, and they damage our gardens and landscapes. This webinar will present an overview of effective strategies to manage deer under many conditions so we can coexist in the outdoor environment.
Continuing education credits available from associations and states for participation in this webinar. Check out the registration page to find your state.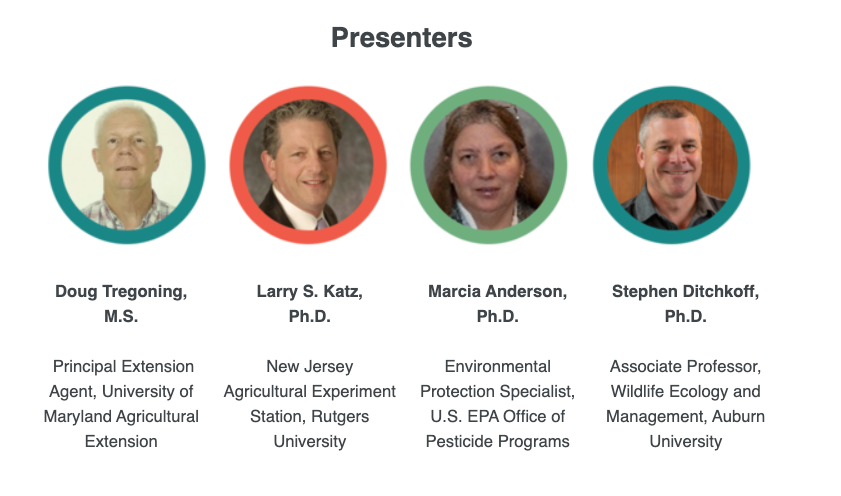 Learning Objectives
Gain a comprehensive understanding of the issues posed by deer in the environment.
Learn about integrated strategies to repel deer that capitalize on their five senses.
Expand your knowledge on other deer management approaches that involve reproductive biology and consider community value systems in these decisions.